Let's Talk Filler Neck Kits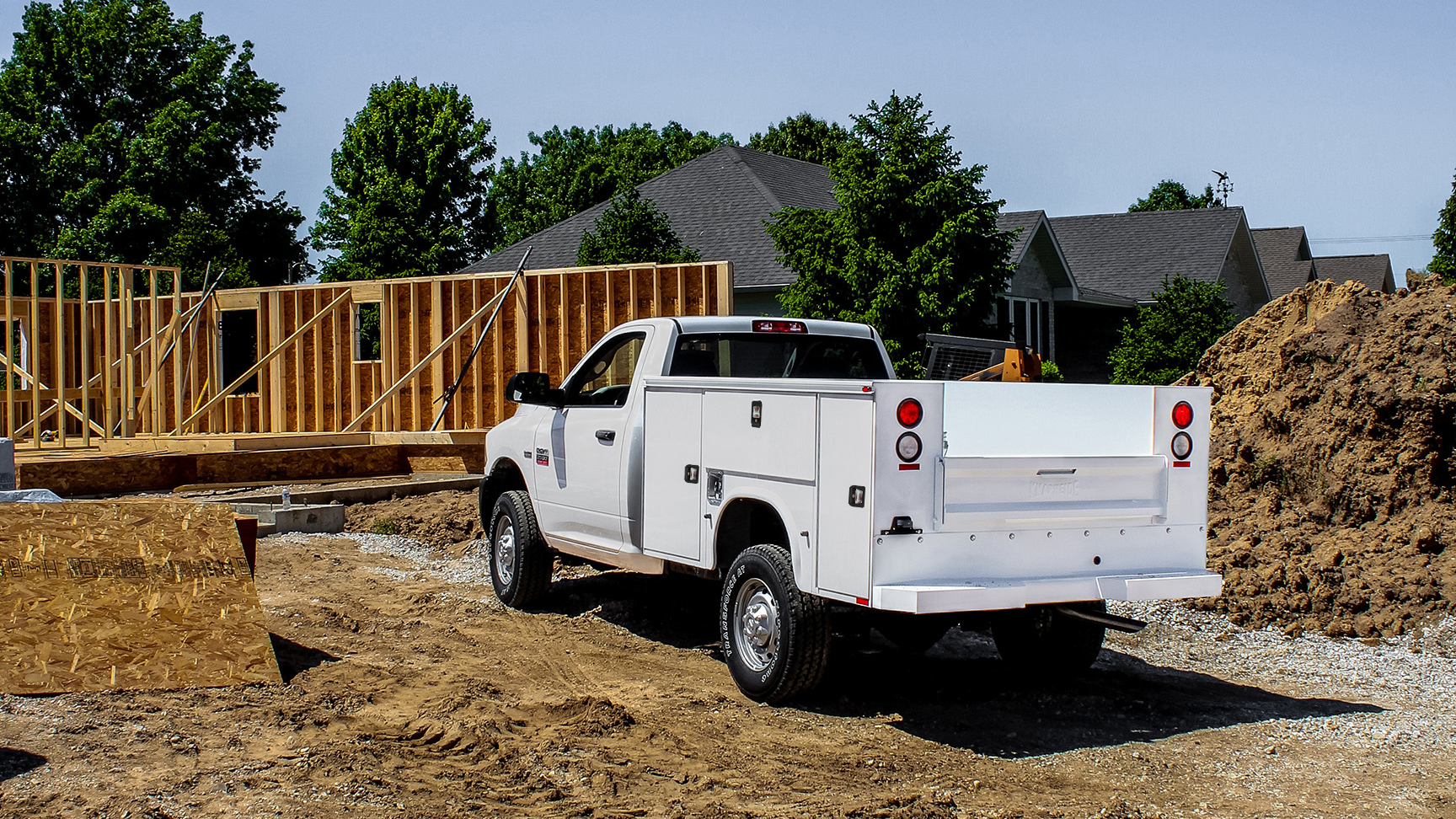 A critical component of completing a work truck, the filler neck has long been an element of vague frustration for upfitters. We spoke to both engineers and upfitters to understand the importance and benefits of using safe, legal, and reliable filler neck kits.

A filler neck is the fuel system component that provides a pathway from the external fuel cap to the OEM fuel tank. While filler necks exist on all vehicles, filler neck kits are specifically for upfitting incomplete work trucks. Filler Neck kits comprise various tubes, clamps, and hoses that can be manipulated into custom pathways to safely transfer fuel around truck frames, tool boxes, or equipment on upfitted work trucks while filling at 10+ gallons per minute.

What is the most common application for filler neck kits?

"These are commonly on what the OEMs, Ford, RAM, and GM, call an 'incomplete vehicle,' which is simply a truck cab with the bare frame rails," says Ben Winter, Director of Business Development at Transfer Flow.
Incomplete vehicles are upfitted to function as a variety of work trucks, including flat beds to haul hay, bricks, or rocks; utility boxes to carry tools on all sides of the bed; or dump trucks where the bed needs the freedom to articulate. The location and routing of the filler neck can vary significantly from application to application.
When incomplete vehicles come off the line, they are equipped with a bag of filler neck parts called a Dunnage Kit and some hose on the frame. The upfitter will use the accompanying parts from the chassis to piece together a filler neck, however in many instances, the OEM may not have provided enough components for the custom application; that's when Transfer Flow's complete filler neck kits come in handy.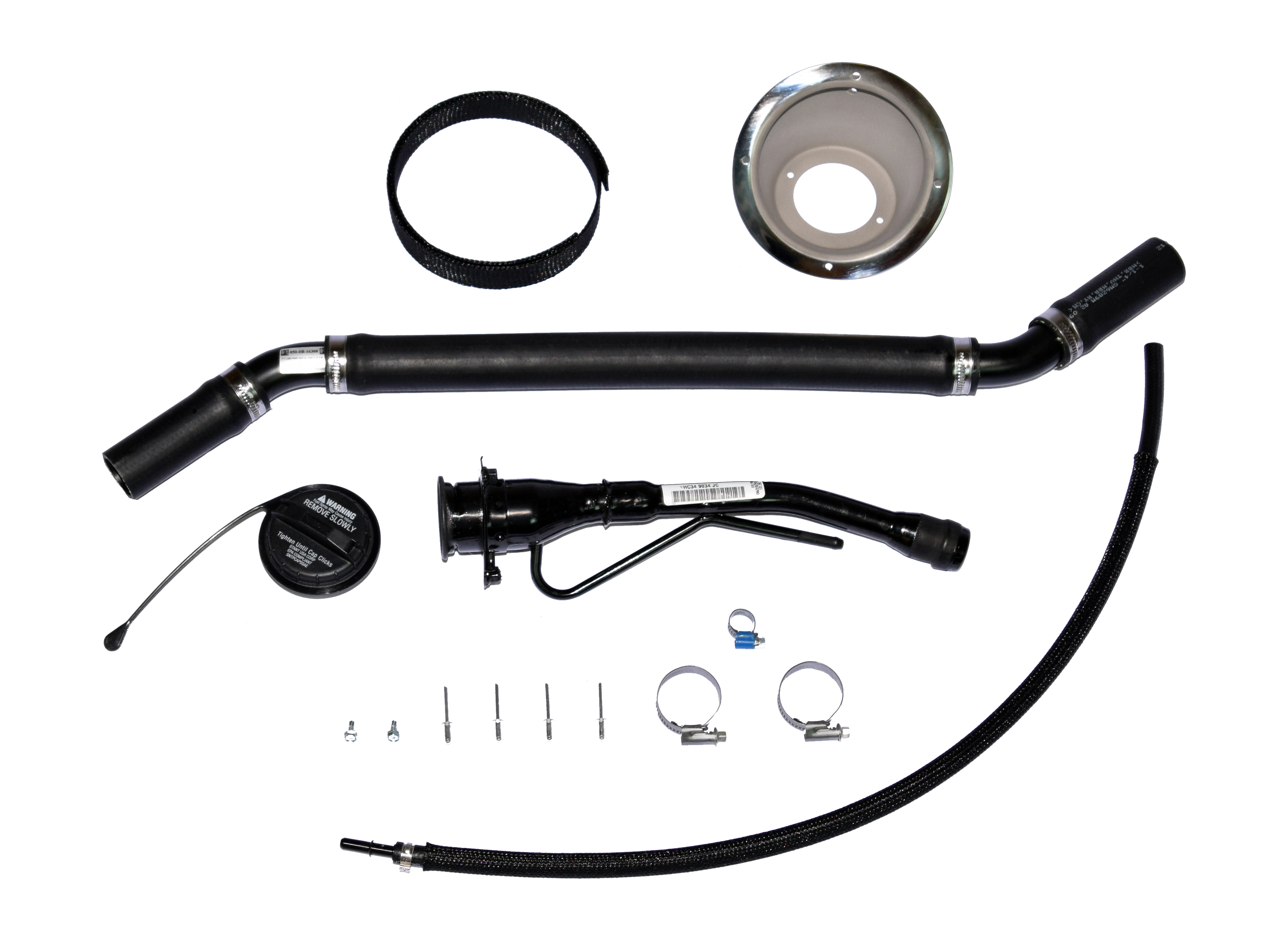 What is included in a filler neck kit?

A typical filler neck kit consists of a bezel, straight or formed filler neck with fuel cap, straight or formed transfer tube(s), various double-walled rubber hoses, clamps, and installation hardware. Each part included in a filler neck kit must meet Society of Automotive Engineers (SAE) standards.
"We aim to deliver a premier, out-of-the-bag solution for these upfitters," explains Michael Larocco, Manager of Engineering at Transfer Flow. "By adhering to the most stringent testing standards outlined by CARB [California Air Resources Board], we are able to provide the executive orders that re-certify the legality of that vehicle's fill portion in all U.S. states, which ends up saving the upfitter time, money, and effort."
Most of the parts included in the filler neck kits are engineered and manufactured at the Transfer Flow production facility in Chico, California. "Although the shapes and components of each filler neck may vary from application to application, the production path involves many of the same stations. Filler neck parts pass through the horizontal band saw, the swaging machine, the hydraulic beading machine, small parts welding, and pressure testing to ensure a premier product," says Brian Smith, Mechanical Engineer at Transfer Flow. "We work with materials of all sizes, so we have engineered the necessary tooling to allow us to be agile in our production capabilities."
What is the benefit of using a filler neck kit?

Upfitters are responsible for building out the body and completing the fill portion of the vehicle using CARB-certified filler neck parts. "CARB regulates aftermarket filler neck kits by mandating that the consumer must be able to safely pump gasoline into the vehicle at 10 gallons or more per minute," adds Winter. "That's why we run multiple fill tests at 10 gallons per minute on all of our filler neck kits. As a rule, we hold our diesel filler neck kits to the same standards."
Installing a Transfer Flow filler neck kit gives the upfitter confidence that they will be able to complete the job legally and efficiently, while providing the customer with a safe and reliable work truck.
"We've been buying filler necks from Transfer Flow for years, without their complete filler neck kits, we would have to purchase hose, have pipe bent, and hope we can put together something that works. It's a pain," says Gary Stromer, Parts Manager at LCL Truck Equipment in Hastings, NE. "With Transfer Flow filler necks, none of that's a concern. We're saving time, and time is money."
What if I only need a filler neck part to complete the upfit?

There are other instances when the upfitter only needs one or two additional components, maybe a 90-degree elbow or a few more feet of hose, to use in conjunction with the OEM-supplied filler neck parts to complete the finish work. Transfer Flow manufactures and sells filler neck parts individually. However on gasoline applications, the upfitter is responsible for running the fill tests and completing the necessary paperwork for re-certifying the vehicle for compliance, as Transfer Flow's executive orders only apply to complete filler neck kits.