Installation Options
Installers Throughout the US, Canada and Australia
Transfer Flow has built an extensive network of 196 authorized installers throughout North America, all of which undergo thorough screening and have demonstrated the ability to install multiple fuel systems from each of our main product lines. Many of our installers have more than a decade of experience installing Transfer Flow fuel tanks, and you will find them eager to assist with the purchase and installation of your fuel tank. Their installation rates will vary.
Have Your Tank Installed at Our Factory
Located 90 miles north of Sacramento in the beautiful town of Chico, our facility is open Monday - Friday with installation appointments at 7 AM and 11 AM. To check available install dates or to schedule an installation, call (800) 442-0056. If you're traveling from outside the area and need a place to stay, call our friends at Oxford Suites to receive a special Transfer Flow discount on your reservation.
Featured Premier Installer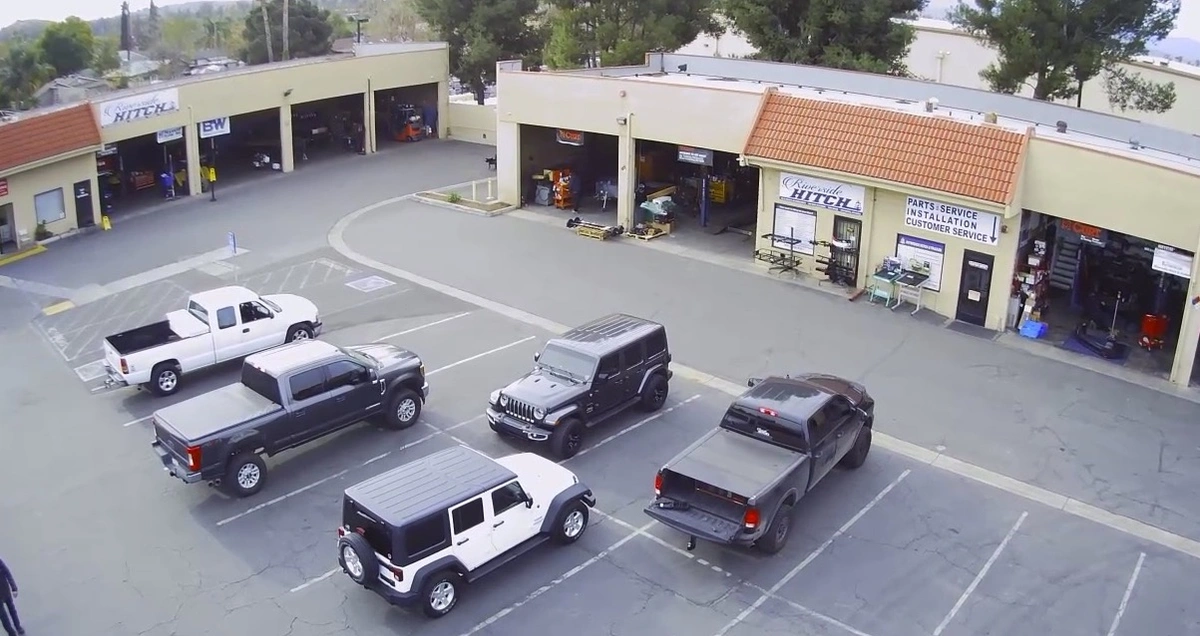 RIVERSIDE HITCH & TRAILER - Riverside, CA
Riverside Hitch & Trailer is a full-service hitch and towing facility in Riverside, California, with over 200 hitches in stock. They have been family-owned and operated for 25 years at the same location! They pride themselves on high-quality workmanship and the longevity of their products and installations. Riverside Hitch & Trailer offers fifth wheel, brake controls, tow bar package installations, weight distribution, sway control setups, and Transfer Flow tanks! They have anything and everything you need for towing and aftermarket accessories.
Installer Map
Installer List
★ Premier Installers have thorough knowledge of the Transfer Flow product line and proven track record of quality customer service.

| | | | | | | |
| --- | --- | --- | --- | --- | --- | --- |
| | Bob's Services Inc. | 2009 Spar Avenue | Anchorage | AK | 99501 | 907-276-3221 |
| | Southeastern Truck Body | 2006 Fisher Street | Huntsville | AL | 35803 | 256-880-2628 |
| ★ | Central Arkansas Truck Outfitters | 25633 I-30 Frontage Rd. S | Bryant | AR | 72022 | 501-993-0848 |
| | Dealer's Truck Equipment | 6601 I-30 | Little Rock | AR | 72209 | 501-568-9000 |
| ★ | SDHQ Motorsports | 190 South McQueen Rd, #109 | Gilbert | AZ | 85233 | 480-633-2929 |
| ★ | Cliff's Welding Inc. | 4007 East Main Street | Mesa | AZ | 85205 | 480-832-0570 |
| ★ | Quality Bumper | 1023 S. Gilbert Rd. | Mesa | AZ | 85204 | 480-835-0088 |
| ★ | Quality Bumper | 8736 West Thunderbird Road | Peoria | AZ | 85381 | 623-486-0292 |
| ★ | Quality Bumper | 1210 Grand Avenue | Phoenix | AZ | 85007 | 602-258-9577 |
| ★ | Quality Bumper | 2120 North Stone Avenue | Tucson | AZ | 85705 | 520-624-9649 |
| | Custom Auto & Truck Shop | 5101 West Maryland Avenue | Glendale | AZ | 85301 | 623-842-8748 |
| | Drake Equipment | 2235 S. 19th Avenue | Phoenix | AZ | 85009 | 602-278-2552 |
| | Simpson Toolbox Co. | 2440 West McDowell | Phoenix | AZ | 85009 | 602-269-5769 |
| | Lamb Chevy Cadillac | 400 Prescott Lakes Parkway | Prescott | AZ | 86301 | 928-778-5262 |
| | Driven Auto Accessories | 7849 E State RT 69, Ste. B | Prescott Valley | AZ | 86314 | 928-772-0042 |
| | Bartling Enterprise | 22430 South Scotland Court | Queen Creek | AZ | 85242 | 480-895-0545 |
| | Arizona Spring Company | 249 East Grant Road | Tucson | AZ | 85705 | 520-623-5826 |
| | Bill Nelson's Auto Service | 3515 South Palo Verde | Tucson | AZ | 85713 | 520-747-5900 |
| | Special One Pickup Accessories | 2825 East 14th Street Bldg B | Yuma | AZ | 85365 | 928-343-1103 |
| | BD Power/Valley Fuel Injection | 33541 Maclure Road | Abbotsford | BC, CAN | V2S7W2 | 604-853-6096 |
| | Interior Offroad | 1951 1st Ave. | Prince George | BC, CAN | V2L 2Y8 | 250-562-6760 |
| ★ | Heacock Trailers and Truck Accessories | 1105 El Camino Real | Arroyo Grande | CA | 93420 | 805-489-8442 |
| ★ | Bidwell Truck & Auto | 3126 Highway 32 | Chico | CA | 95973 | 530-894-5211 |
| ★ | Transfer Flow, Inc. | 1444 Fortress St. | Chico | CA | 95973 | 530-893-5209 |
| ★ | Line-X Truck Center of Clovis | 885 Clovis Ave. | Clovis | CA | 93612 | 559-323-5578 |
| ★ | Ultra Truckworks Inc. | 9208 Elk Grove Blvd. | Elk Grove | CA | 95621 | 916-686-2220 |
| ★ | Bedliners Plus | 1326 Koster Street | Eureka | CA | 95501 | 707-443-0730 |
| ★ | Taps Truck & Auto Accessories | 1207 13th Street | Paso Robles | CA | 93446 | 805-226-8277 |
| ★ | Totally Trucks | 3263 Bechelli Lane | Redding | CA | 96002 | 530-223-2246 |
| ★ | Riverside Hitch & Trailer | 7304 Indiana Avenue #4 | Riverside | CA | 92504 | 951-785-9353 |
| ★ | Ultra Truckworks Inc. | 5623 Auburn Blvd. | Sacramento | CA | 95841 | 916-339-8000 |
| ★ | SoCal Truck Accessories and Equipment | 10460 Mission Gorge Road | Santee | CA | 92071 | 619-749-0742 |
| | Trucksmart | 11844 Atwood Road | Auburn | CA | 95603 | 530-888-7825 |
| | Norcal Motor Company | 2630 Grass Valley Hwy | Auburn | CA | 95603 | 530-508-5100 |
| | California Truck Accessories | 5401 Gasoline Alley | Bakersfield | CA | 93313 | 661-832-5091 |
| | Direct Offroad | 6619 Rosedale Hwy. | Bakersfield | CA | 93308 | 661-588-7702 |
| | Unitrax | 2365 Railroad St. | Corona | CA | 92878 | 800-622-4327 |
| | A & B Hitches and Mufflers | 9218 C Avenue | Hesperia | CA | 92345 | 760-244-3550 |
| | Manteca Truck Accessories | 740 North Main Street | Manteca | CA | 95336 | 209-823-9892 |
| | Haidlen Ford | 1355 East F Street | Oakdale | CA | 95361 | 209-847-0356 |
| | Warner's Muffler | 190 Douglas Drive | Oceanside | CA | 92058 | 760-433-2240 |
| | Tri-County Rhino | 260 Lambert Street Suite F | Oxnard | CA | 93036 | 805-604-9920 |
| | Central Coast Trailers | 3507 Combine St. | Paso Robles | CA | 93446 | 805-239-7706 |
| | Trucksmart | 6455 Pacific Street | Rocklin | CA | 95677 | 916-773-7333 |
| | Dentoni's Welding Works | 6941 Florin Perkins Rd. | Sacramento | CA | 95828 | 916-387-8887 |
| | SoCal Supertrucks Inc. | 774 S E Street | San Bernardino | CA | 92408 | 909-383-5454 |
| | A & B Trailer Hitch, Inc. | 936 Bransten Road | San Carlos | CA | 94070 | 650-368-2125 |
| | Accurate Trailer Hitch & Welding, Inc | 26570 Ruether Avenue | Santa Clarita | CA | 91350 | 661-251-9234 |
| | Avery Muffler | 19390 Industrial Drive | Sonora | CA | 95370 | 209-532-4611 |
| | Valley Truck Accessories | 6318 Holman Road | Stockton | CA | 95212 | 209-478-3800 |
| | Road N Truck Accessories | 3234 East Thousand Oaks Blvd. | Thousand Oaks | CA | 91362 | 805-495-6657 |
| ★ | Ledom's Performance | 1250 Paonia Street #C | Colorado Springs | CO | 80915 | 719-574-7801 |
| ★ | Maxair | 8484 South Valley Hwy | Englewood | CO | 80112 | 303-706-0000 |
| ★ | Bullhide 4x4 | 5817 South College Avenue | Ft. Collins | CO | 80525 | 970-224-2288 |
| | Mastercraft Truck | 2261 West Cornell Avenue | Englewood | CO | 80110 | 303-761-8504 |
| | Five R Trucks & Trailers | 15590 West Colfax Avenue | Golden | CO | 80401 | 303-278-1830 |
| | C.R.P. 4X4 & Auto Accessories | 2102 9th Street Bldg B | Greeley | CO | 80631 | 970-351-8603 |
| | New England Truckmaster | 16 Bernhard Road | North Haven | CT | 06473 | 203-772-1217 |
| | Hartford Truck Equipment | 95 John Fitch Blvd. | South Windsor | CT | 06074 | 860-290-9516 |
| ★ | A & A Trailer Hitch Center | 2425 Manatee Avenue | Bradenton | FL | 34208 | 941-746-6369 |
| ★ | Catlin Truck Accessories | 1215 North Main Street | Jacksonville | FL | 32706 | 904-354-8521 |
| | California Custom Sport Trucks | 4721 Ravenswood Road | Ft. Lauderdale | FL | 33312 | 954-981-7223 |
| | Buddy Holiday's Truck & Van | 6144 South US Hwy 1 | Ft. Pierce | FL | 34982 | 772-465-9600 |
| | World of Independence | 1804 South Division Avenue | Orlando | FL | 32822 | 407-422-1069 |
| | Automotive Necessities Inc. | 2301 North Slappey Boulevard | Albany | GA | 31707 | 229-434-1237 |
| | Ford Performance Specialists | 351 Six Flags Parkway SE | Mableton | GA | 30126 | 770-949-7191 |
| ★ | Zip's AW Direct | 316 West Milwaukee Street | New Hampton | IA | 50659 | 641-394-3166 |
| | Cortez Truck Equipment | 5950 6th Street SW | Cedar Rapids | IA | 52404 | 319-366-8184 |
| ★ | Custom Truck | 4376 Chinden Blvd. | Boise | ID | 83714 | 208-376-1092 |
| | eMotorsWest.com - Superstore Idaho | 5803 Cleveland Blvd. | Caldwell | ID | 83607 | 208-577-8931 |
| | Total Truck | 4203 East Cleveland Blvd. | Caldwell | ID | 83605 | 208-455-2515 |
| | Custom Truck Inc. | 254 West Kathleen Avenue | Coeur D'Alene | ID | 83815 | 208-765-4444 |
| | S & G Customs | 627 2nd Avenue South | Twin Falls | ID | 83301 | 208-734-1111 |
| | Attitude Performance | 2349 East Oakton | Arlington Heights | IL | 60005 | 847-593-0505 |
| | Scheid Diesel | 3120 South Banker (Route 45 South) | Effingham | IL | 62401 | 800-669-1934 |
| | Knapheide Truck Equipment | 2600 West Route 120 | McHenry | IL | 60050 | 815-385-2600 |
| | Equipment Service Company | 4415 Douglas Road | Milstadt | IL | 62260 | 618-476-1846 |
| | Master Truck & Trailer LLC. | 2980 West Wadsworth Road | Waukegan | IL | 60087 | 847-672-4703 |
| ★ | Dan's Service Center | 111 Alt Drive | Elkhart | IN | 46514 | 574-262-4638 |
| | Scheid Diesel Service | 3707 South 500 East | Lafayette | IN | 47905 | 800-669-3533 |
| | Scheid Diesel Service | 4960 North 13th Street | Terre Haute | IN | 47805 | 800-669-1593 |
| | Truck Stuff Inc. | 427 North Washington | Wichita | KS | 67202 | 316-264-1908 |
| | Line-X of Somerset | 47 Larry Lane | Somerset | KY | 42501 | 606-679-1717 |
| | UTEC | 1849 Bertrand Drive | Lafayette | LA | 70506 | 800-243-5045 |
| | Dealer's Truck Equipment | 2460 Midway Street | Shreveport | LA | 71108 | 318-635-7567 |
| | Bay State Truck Caps, Inc. | 333 Martine Street Rt. 6 | Fall River | MA | 02723 | 508-677-9600 |
| | Patriot Sales and Service | 153 Washington Street | Plainville | MA | 02762 | 508-643-9201 |
| | Line-x of Hagerstown, Inc. | 11909 Wheatfield Dr. | Hagerstown | MD | 21740 | 240-313-9110 |
| | Hews Company | 190 Rumery Street | South Portland | ME | 04106 | 207-767-2136 |
| | Arista Truck Systems, Inc. | 5125 Clay Avenue SW | Grand Rapids | MI | 49548 | 616-530-6000 |
| | Hoekstra Truck Equipment | 260 36th Street SE | Grand Rapids | MI | 49548 | 616-241-6664 |
| | GTR Equipment Company | 2098 M 37 South | Traverse City | MI | 49684 | 231-943-9640 |
| | Huttner Enterprises | 13531 Balsam Lane North | Dayton | MN | 55327 | 763-427-9821 |
| | Crysteel Truck Equipment | 52248 Ember Road | Lake Crystal | MN | 56055 | 507-726-6041 |
| | Toppers and Trailers Plus | 1929 E. Madison Ave, | Mankato | MN | 56001 | 507-387-7376 |
| | Bert's Truck Equipment | 3804 Hwy 75 North | Moorhead | MN | 56560 | 218-233-8681 |
| | Stonebrooke Equipment | 15100 Business Parkway | Rosemount | MN | 55068 | 952-224-4440 |
| | Gas Tank Renu | 3075 4th Avenue East | Shakopee | MN | 55379 | 952-937-0557 |
| | North Central Truck Equipment | 2629 Clearwater Road | St. Cloud | MN | 56301 | 320-251-7252 |
| | Black Jack Truck Accessories | 553 SE Oldham Road | Lee's Summit | MO | 64081 | 816-246-9192 |
| | Maxwell Trailers and Pickup Accessories | 17039 Hwy 54 South | Mexico | MO | 65265 | 573-581-7010 |
| | Hall Brothers | 1625 North West Bypass | Springfield | MO | 65803 | 417-831-3022 |
| | Aerial Truck Equipment | 8270 Craft Road | Olive Branch | MS | 38654 | 662-895-8600 |
| | Diesel Pros LLC | 120 Thunder Rd. | Belgrade | MT | 59714 | 406-551-2777 |
| | Mike's Off Road | 80675B Gallatin Road | Bozeman | MT | 59718 | 406-586-4103 |
| | Dark Horse Outfitters | 430 Pronghorn Trail | Bozeman | MT | 59718 | 406-587-6103 |
| | Auto World Hi-Lo Truck | 520 9th St. North | Great Falls | MT | 59401 | 406-727-8915 |
| ★ | Rowells, Inc. | 185 Corporate Boulevard | Indian Trail | NC | 28079 | 704-821-6828 |
| | Five Points Motor Company | 800 Greensboro Rd. | High Point | NC | 27260 | 336-883-8902 |
| | Tom's 4 Wheel Drive, Inc. | 3549 Old US Hwy | Lexington | NC | 27292 | 336-731-8509 |
| | Truckers Toy Store | Hwy 70 West | Morehead | NC | 28557 | 252-247-4199 |
| | Glenn's Welding & Trailer | 121 Eastdale Drive | Bismarck | ND | 58501 | 701-223-5043 |
| | DTE Inc. | 1012 1st. Ave. | Dickinson | ND | 58601 | 701-483-4369 |
| | Big Rig Truck Accessories | 23188 Hwy 6 | Gretna | NE | 68028 | 402-332-4833 |
| | Hews Company LLC | 4 Ryan Road | Bow | NH | 03304 | 603-226-3252 |
| | Equipment Sales & Serivce | 152 Floyd Avenue | Bloomfield | NJ | 07003 | 973-743-7516 |
| | Monmouth Truck Equipment | 745 Shrewsbury Avenue | Shrewsbury | NJ | 07702 | 732-741-1199 |
| | OK 4WD | 2621 NJ-57 | Stewartsville | NJ | 08886 | 908-454-6973 |
| ★ | Trucks Unique | 4914 Pan American Fwy NE | Albuquerque | NM | 87109 | 505-884-5749 |
| | Clark Truck Equipment | 501 Industrial NE | Albuquerque | NM | 87107 | 505-880-8222 |
| | Line-X of Albuquerque | 2019 Menaul NE, Suite A | Albuquerque | NM | 87107 | 505-764-1971 |
| | Largo Tank & Equipment | 5720 US Hwy 64 | Farmington | NM | 87401 | 505-327-6281 |
| ★ | Custom Truck Accessories | 3244 S. Carson St. | Carson City | NV | 89701 | 775-885-8111 |
| ★ | 4 The Truck | 7585 Commercial Way Suite A | Henderson | NV | 89011 | 702-434-9274 |
| ★ | Custom Truck Accessories | 385 Kietzke Lane | Reno | NV | 89502 | 775-329-5111 |
| ★ | Washoe Metal Fabricating | 905 Bergin Way | Sparks | NV | 89431 | 775-358-6390 |
| | A-1 Trailer and Truck Accessories | 3346 South Valley View Blvd. | Las Vegas | NV | 89102 | 702-362-6212 |
| | Drake Equipment | 3527 Civic Center | North Las Vegas | NV | 89030 | 702-365-1616 |
| | High Rollin Customs | 855 Bergin Way | Sparks | NV | 89431 | 775-331-7070 |
| | Folbeck 4 Wheel Drive Inc. | 2305 Glendale Avenue | Sparks | NV | 89431 | 775-331-4177 |
| | 4X Heaven, Inc. | 221 W. Fulton Street | Gloversville | NY | 12078 | 518-725-1203 |
| | Tim's Trim, Inc. | 25 Bermar Park | Rochester | NY | 14624 | 585-429-6270 |
| | All County Lawn Tractor & Trailer Center | 7199 Victor-Pittsford Road | Victor | NY | 14564 | 585-924-7653 |
| | The Truck Shop | 118 Montauk Hwy | West Sayville | NY | 11796 | 631-589-6500 |
| | Holman Motors Inc. | 4387 Elick Lane | Batavia | OH | 45103 | 513-943-3122 |
| | F & D Offroad | 6441 Davis Industrial Parkway | Solon | OH | 44139 | 216-396-4365 |
| | Fisher's Shop, Inc. | 1321 Lavelle Drive | Xenia | OH | 45385 | 937-352-6798 |
| ★ | Perfection Truck Parts | 5100 West Reno | Oklahoma City | OK | 73127 | 405-947-6603 |
| | Atwill Service Centre | 1167 Rainbow Street | Ottawa | ON, CA | K1J 6X7 | 613-744-5644 |
| | All American Truck & SUV Centers | 21575 SW T Highway | Aloha | OR | 97006 | 503-642-0849 |
| | Empire Truck Works LLC. | 20698 Brinson Boulevard | Bend | OR | 97701 | 541-383-3113 |
| | Northwest Running Boards | 10325 SE Hwy 212 | Clackamas | OR | 97015 | 503-655-0987 |
| | Tom & Gig's Autobody & Muffler | 135 South Schoneman | Coos Bay | OR | 97420 | 541-888-4660 |
| | Cascade Truck Body & Welding | 29512 Airport Road | Eugene | OR | 97402 | 541-342-5317 |
| | Phipps Chevron | 200 North First Hwy 395 | Hermiston | OR | 97838 | 541-567-3537 |
| | AG Diesel Repair | 12410 NE Whitaker Way | Portland | OR | 97230 | 503-253-1747 |
| | All American Truck & SUV Centers | 3795 Portland Rd. NE | Salem | OR | 97301 | 503-375-2812 |
| | Van Specialties | 19400 SW 125th Court | Tualatin | OR | 97062 | 503-218-2065 |
| | Tualatin Truck Accessories Line-X | 10005 SW Tualatin Sherwood Road | Tualatin | OR | 97092 | 503-855-3519 |
| | All Pro Trailer Superstore, Inc. | 6799 Carlisle Pike | Mechanicsburg | PA | 17050 | 800-622-703 |
| | Tom's Auto Service | 12645 State Hwy 8 | Titusville | PA | 16354 | 814-827-1073 |
| | Rapid Diesel Service | 1105 N Creek Dr. | Rapid City | SD | 57703 | 605-348-8360 |
| | Northern Truck Equipment | 47213 Schweigers Circle | Sioux Falls | SD | 57107 | 605-543-5206 |
| ★ | Phoenix Conversions Inc. | 5915 Casey Drive | Knoxville | TN | 37909 | 865-670-4060 |
| | Nichols Fleet Equipment | 2401 East 31st Street | Chattanooga | TN | 37407 | 423-622-7528 |
| | Memphis Truck Company | 2811 Farrisview Boulevard | Memphis | TN | 38118 | 901-844-0714 |
| | Select Trailers | 3181 Hwy 231 North | Shelbyville | TN | 37160 | 931-685-4040 |
| ★ | Master Hitch | 5300 Glenmont Drive | Houston | TX | 77081 | 713-974-4440 |
| ★ | Pick Up Pals, Inc. | 6810 Wayne Avenue | Lubbock | TX | 79424 | 806-794-7444 |
| ★ | Master Hitch | 25015 Spring Ridge Drive | Spring | TX | 77386 | 281-863-9380 |
| ★ | Woody's Accessories and Off-Road | 1810 W SW Loop 323 | Tyler | TX | 75701 | 903-592-9663 |
| | Texas Customs & Accessories | 3907 Elaine Drive | Bryan | TX | 77808 | 979-778-0626 |
| | Del Air Co Inc. | 2334 Pollex Drive | Corpus Christi | TX | 78415 | 361-855-1602 |
| | Bond Equipment | 2946 Irving Boulevard | Dallas | TX | 75247 | 214-637-0760 |
| | Mike's Off Road Accessories | 6440 Airport Freeway | Haltom | TX | 76117 | 817-834-4900 |
| | Dynamic Customs & Off-Road Shop | 2308 North John Redditt Drive | Lufkin | TX | 75904 | 936-639-4888 |
| | Jim Bass Ford, Inc. | 4062 Arden Road | San Angelo | TX | 76902 | 325-944-2120 |
| | Anthony's Planet Pickup | 2238 NW Loop 410 | San Antonio | TX | 78230 | 210-525-8789 |
| | South Texas Outfitters | 8211 Hwy 281 North | San Antonio | TX | 78216 | 210-349-7319 |
| | Auto Xtras Inc. | 9515 San Pedro Ave. | San Antonio | TX | 78216 | 210-541-0000 |
| | Jon Wickham & Associates | 2056 Interstate 45 | Wilmer | TX | 75172 | 972-225-9119 |
| ★ | Semi Service Inc. | 4285 West 1385 South | Salt Lake City | UT | 84104 | 801-521-0360 |
| | Gillett Diesel Service | 14812 South Heritage Crest Way | Bluffdale | UT | 84065 | 801-571-7780 |
| | Smith Diesel Performance | 2048 North Main Street | Cedar City | UT | 84721 | 435-865-0055 |
| | Wasatch Truck Equipment | 512 East 9800 South | Sandy | UT | 84070 | 801-571-8761 |
| | Truck Decor | 9529 South 500 West | Sandy | UT | 84070 | 801-256-3350 |
| | V.C. Milne & Sons Welding, Inc. | 3831 S. 1600 E. Circle | St. George | UT | 84790 | 435-673-3084 |
| | Performance Diesel Inc. | 687 North Industrial Road | St. George | UT | 84770 | 435-673-5858 |
| | Basin Upfitting | 2272 S. 5600 W. | West Valley City | UT | 84120 | 801-210-2535 |
| | Shade Equipment Company | 4072 North Valley Pike | Harrisonburg | VA | 22802 | 540-433-6440 |
| | American Truck & Trailer | 11850 Livingston Road Suite 104 | Manassas | VA | 20109 | 703-257-1710 |
| | Equipment Specialists, Inc. | 9489 Hawkins Drive | Manassas | VA | 20109 | 703-361-2227 |
| | Shade Equipment Company | 1237 Martinsburg Pike | Winchester | VA | 22603 | 540-667-1600 |
| | Nelson Truck | 20063 84th Avenue South | Kent | WA | 98032 | 253-395-3825 |
| | Smiley's Inc. | 18022 State Route 536 | Mt. Vernon | WA | 98273 | 360-424-7338 |
| | Eric's R.V. Performance | 275 South 7th Avenue | Sequim | WA | 98382 | 360-683-3696 |
| | Titan Truck Equipment | 605 North Fancher Road | Spokane | WA | 99212 | 509-534-5010 |
| | Custom Truck | 7225 E. Sprague Ave. | Spokane Valley | WA | 99212 | 509-924-9999 |
| | Ballew's Hitch, Truck, and R.V. | 2940 South M Street | Tacoma | WA | 98409 | 253-475-1200 |
| | Performance Diesel LLC | 1501 North Ashland Avenue | De Pere | WI | 54115 | 920-330-0183 |
| | Midwest Off Road Center | 65 Copeland | La Crosse | WI | 54603 | 608-784-9980 |
| | Toys for Trucks | 3515 108th Street South | Milwaukee | WI | 53228 | 414-329-7400 |
| ★ | Ameri-Tech Equipment Co. | 970 Oildale Street | Evansville | WY | 82636 | 307-234-9921 |
| | D's 4 Wheel Drive | 210 East 15th Street | Cheyenne | WY | 82001 | 307-634-1736 |
| | Ameri-Tech Equipment Co. | 103 Fremont Way | Lander | WY | 82520 | 307-332-4000 |
| | Performance Auto & Truck | 258 Elk Street | Rock Springs | WY | 82901 | 307-362-7154 |