Premier F-150 Upfit Combo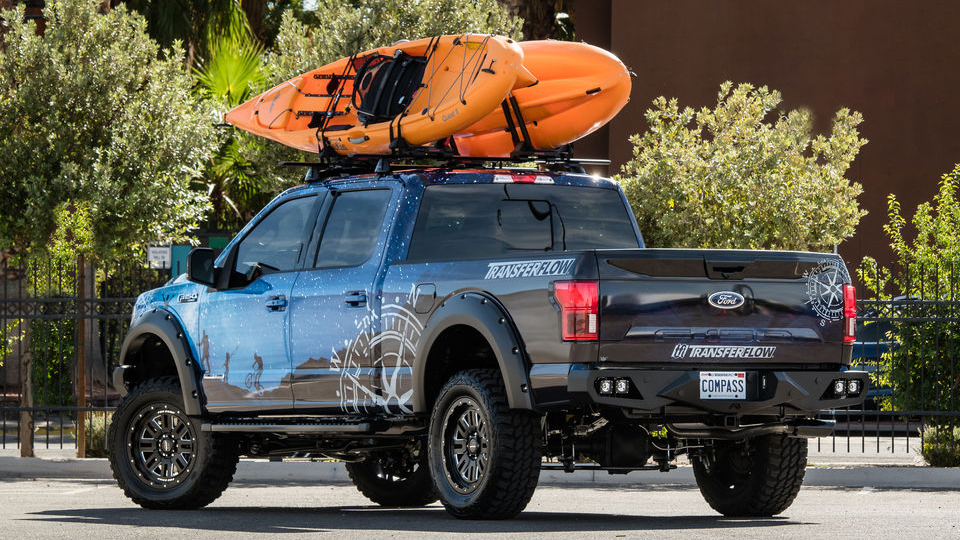 Upfitting your Ford F-150 with the best aftermarket parts is always fun, especially when they dramatically improve your vehicle's capabilities! We recommend increasing fuel capacity, improving drivability, and maximizing cargo space with these three trusted additions.
First, install a Transfer Flow replacement tank to double your driving range. When you buy a Transfer Flow 50-gallon F-150 gas or diesel replacement tank, the return on investment starts with the first mile. Forget the days of pulling into jam-packed fuel stations and paying 25% more per gallon. Fuel capacity won't be the constraint it once was, and you'll wonder why you didn't make this upgrade sooner. Drive 1,300 highway miles without having to stop because a Transfer Flow tank gives you the option to choose when and where you fill-up.
Second, upgrade your wheels with a set of alloy Pro Comp Congos. With this aftermarket part, performance and aesthetics are equally important. Boost corrosion resistance and off-road durability with a new set of wheels while giving your F-150 a whole new look. We like Pro Comp's state-of-the-art low-pressure casting technology for lightweight but reliable parts.
Third, outfit your F-150 with a dependable roof rack for all your adventure equipment. We live in Northern California where outdoor river rats are plenty so we opted for a Yakima dual kayak rack. If kayaks aren't your thing, Yakima offers a variety of premium, quality-made roof racks for bikes, boards, and other cargo.
Limiting yourself by fuel can leave you stuck in unwanted places or cutting a trip short. Transfer Flow's F-150 replacement fuel tank elevates your truck's use and value! Pair it with a new set of wheels and roof cargo rack to keep your adventure going. What are you waiting for? Upgrade your F-150 today!